Your Trusted Local Duct Cleaning Professionals
Our certified Air Duct Cleaning Specialists will remove up to 99.97% of debris and dust from your ventilation system.
Just as with any other part of your house, dust and debris accumulate in the air ducts of your HVAC system. However, the process of air duct cleaning is much more complicated than dusting your furniture. For that reason, you should hire a professional HVAC company to get the job done right—and as a BBB-accredited company with fully qualified professionals, you can count on Four Seasons Heating and Air Conditioning to make your Chicago area home safe and clean.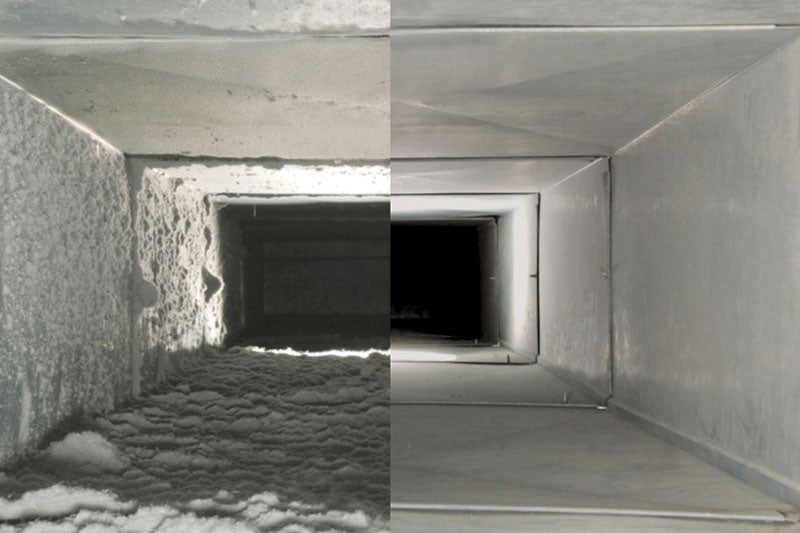 Put Our Decades of Air Duct Cleaning Experience to Work for You!
At Four Seasons Heating and Air Conditioning, we have been providing Chicagoland homeowners with reliable and affordable HVAC services since 1971. With more than 45 years of accumulated experience as an air duct cleaning company, we have had more than enough time to perfect our process! In fact, our highly trained technicians know all of the most effective techniques for duct cleaning. Their goal on every job is to ensure that you enjoy all of the benefits that accompany a cleaner air duct system:
Increased Energy Efficiency: When your ducts are clean, your system doesn't have to work as hard to heat and cool your household.
Odor Removal: Lingering odors that have become trapped in the ducts will be completely eliminated.
Reduced Debris: Our services dramatically reduce the amount of dirt and debris that is lurking in your duct system, leaving your family with cleaner, purer air.
Fewer Allergens: A professional and thorough cleaning of your ductwork will noticeably decrease the allergy triggers in your home.
Not Just Another HVAC Company
Three-Stage H.E.P.A. Filtration: Our 3-stage H.E.P.A. filtration and powerful vacuum systems work together to ensure that all of the contaminants are safely removed from the home, and every piece of our equipment meets OSHA, and EPA standards. We use a combination of compressed air and agitation.
3-5 Hour Process: When you have your duct cleaning performed by Four Seasons Heating and Air Conditioning, we'll come out to your home fully equipped to perform a thorough air duct cleaning. Where other less scrupulous companies may spend an hour or two cleaning your ducts, our technicians will spend between 3 and 5 hours meticulously cleaning every section of your ducts.
Up Front Pricing & Free In-Home Estimates: Some duct cleaning companies will advertise an attractively low price to get their foot in the door, but once they arrive, the price begins to grow with additional fees and services you had not anticipated. Four Seasons Heating and Air Conditioning offers all-inclusive, flat-rate pricing for single systems, and we never up-sell our services. We value honesty in our pricing, so if you have a unique home or a home with multiple systems, we offer free in-home estimates to give you a clear-cut picture of the service we are providing.
BBB Accreditation and 100% Satisfaction Guarantee: Four Seasons Heating and Air Conditioning is a BBB-accredited business, and we carry their highest rating, A+. We earned this rating by dedicating ourselves to providing excellent customer service. We want you to be happy with the service you receive, so should you ever have a problem, we will not rest until the issue has been resolved.
Is There an Indoor Air Quality Issue in Your Home?
The following questions are designed to determine if you have issues in your home with indoor air pollution:
Do you have an air circulating system that utilizes a standard fiberglass filter?
Do you have pets?
Does anyone in your house suffer from allergies, asthma, or other respiratory problems?
Do you regularly clean excessive dust accumulations from your household furniture?
Do you experience headaches, nausea, or burning sensations in the nose, throat, or eyes when inside the home?
When you last changed your furnace filter, did you see dust and dirt inside the filter housing?
If you answered yes to the questions above, it's time to schedule an air duct cleaning!
Find Out More About Our Air Duct Cleaning Services
Don't put off your air duct cleaning any longer! Instead, contact us at Four Seasons Heating and Air Conditioning to find out more about our efficient and
affordable air quality services
to make your home cleaner, safer, and healthier. You can call or fill out our online form to request a free, no-obligation estimate for your project.
$100 off Certified Air Duct Cleaning
Duct cleaning is an important part of maintaining any home or business. Keep your air cleaner with $100 off duct cleaning!
We're Ready to Help...Now!
Day or Night, 24/7, Count on Trusted Service From Four Seasons Heating, Air Conditioning, Plumbing, and Electric