By Four Seasons Heating, Air Conditioning, Plumbing & Electric - April 24, 2022
During periods of heavy rain, floods can occur and lead to extensive damage to your property and business. However, another problem that excess water can cause is a sanitary sewer backup. When the inflow of rainwater overloads the sanitary sewer lines, the water will back up into houses through the drain pipes. This will then lead to more serious issues that are costly to fix—and can even cause health risks to families.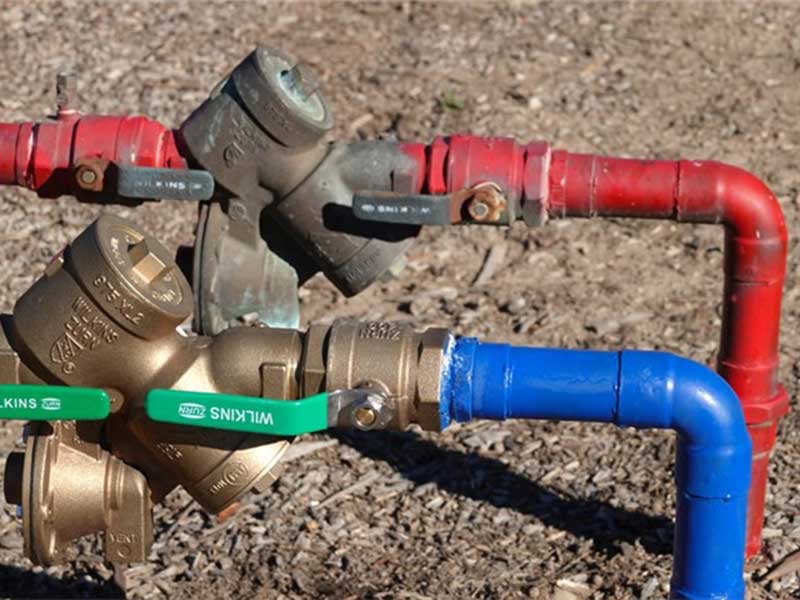 While aggressive sanitary sewer system maintenance and rehabilitation initiatives can ease sanitary sewer backup issues, these measures are sometimes not enough to prevent backflow. Downers Grove Sanitary District has therefore implemented a Cost Reimbursement Program for the Installation of Overhead Sewers or Backflow Prevention Devices in order to encourage residents to consider installing overhead sewers or backflow prevention devices.
For those who will do their part in reducing the inflow of rainwater in the sewer lines, Downers Grove Sanitary District offers a rebate of $3000. To receive the rebate, homeowners must follow strict guidelines to ensure that the backflow prevention device is properly installed in their homes—which is why it's so important to hire a reputable and professional contractor to assist you with its installation.
Four Seasons Plumbing & Sewer is a top-rated plumbing company that provides installation services of backflow prevention systems and other repairs and maintenance services for more than four decades now. Because we're so familiar with the rebate program and the benefits of a backflow prevention device, we've provided this guide to walk you through the process of installing, applying for, and receiving a rebate for this important installation in Downers Grove.
What Is a Backflow Prevention Device?
Backflow issues can be prevented by installing a backflow prevention device on the water pipes of your home. A backflow preventer's main job is to ensure that water will only flow in the right direction and not in the opposite one. You can imagine a backflow prevention device as a one-way gate that only allows the water supply to flow out and stop the water when it tries to flow backward.
There are some areas that require the installation of such devices, while others such as Downers Grove incentivize the installation of backflow preventers by providing rebates. Aside from the damage to property that backflow issues can bring, the contaminated wastewater can adversely affect the health of inhabitants if it makes its way into your home environment.
Top Causes of Backflow
Sanitary sewer systems work by the principle of gravity. Normally, wastewater should only flow in the direction of the slope of the pipe, but backflow can be triggered by a variety of factors including:
Heavy rainfall or huge snow melt
Blockage due to plumbing system defects, tree roots, and construction accidents
Cracks in the water pipes
Insufficient capacity
Back-pitched drain
It is recommended to have a backflow prevention device installed where incoming water and wastewater might be cross-connected. While some homes have built-in backflow prevention devices, you can make sure by having your plumbing system professionally inspected by a reliable plumbing company.
The Cost Reimbursement Program for Residents of Downers Grove
If you live in Downers Grove and are hoping to install a backflow prevention device on your property, we have good news for you. As mentioned before, the Downers Grove Sanitary District offers a cost reimbursement incentive designed to entice homeowners to integrate this important system into their properties. To participate in the program, homeowners will need to hire a reliable contractor and follow a series of steps to apply and receive the rebate. Once all conditions are met and satisfied within a certain timeframe, homeowners will receive a rebate of $3000 to apply to the cost of the installation. Applying for and meeting the requirements to receive the rebate is a complicated process. A professional and reliable contractor, like our team at Four Seasons Plumbing & Sewer, can take over for you and take the stress and hassle out of the application process for receiving a rebate.
The Most Preferred Plumbing Company in Chicagoland
Whether you need to have your plumbing system inspected, repaired, maintained, or have a backflow prevention device installed, you can count on Four Seasons Plumbing & Sewer to cater to your needs. Since 1971, we have been providing homeowners in Chicagoland with reliable products and seamless plumbing services, making us the most preferred provider.
Four Seasons Plumbing
Along with our A+ rating from the Better Business Bureau, we have also earned other industry-related accolades and awards such as the Angie's List's Super Service Award. If you want to learn more about our backflow preventer installation and other plumbing services, contact us today by giving us a call or filling out this quick online form to book a fast in-home consultation and pricing estimate.
Save $35 on Any Repair Service
Repair service in hours, not days. Save $35 on any heating, cooling, plumbing, or electrical repair.
We're Ready to Help...Now!
Day or Night, 24/7, Count on Trusted Service From Four Seasons Heating, Air Conditioning, Plumbing, and Electric