Benefits of a Smart Thermostat
By Four Seasons Heating, Air Conditioning, Plumbing & Electric - September 7, 2018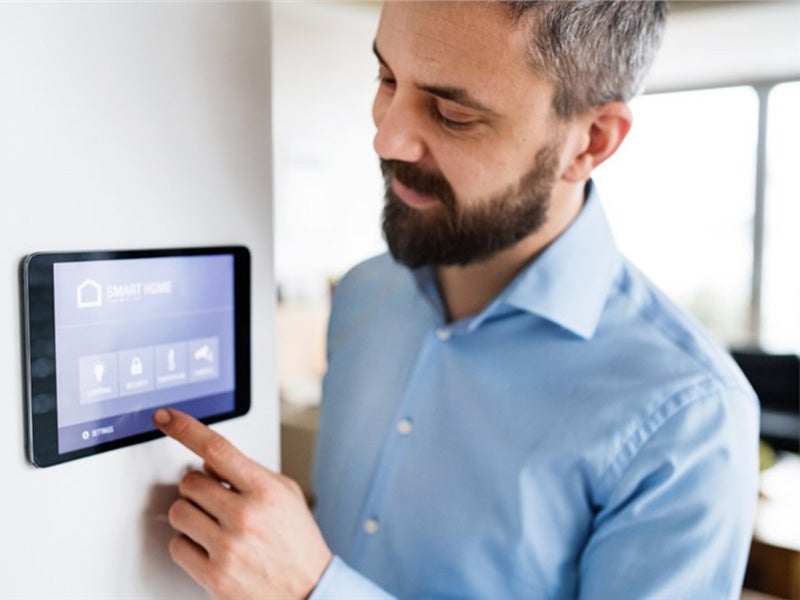 It's no secret that up to 50% of a home's monthly energy costs can be attributed to heating and cooling costs. This is especially true for homes that count with older and outdated HVAC systems. If your HVAC system isn't as efficient as it should be, chances are that keeping your indoor climate at a comfortable temperature throughout the year is costing you much more than it should.
Thanks to advancements in technology, today's thermostats are smarter than ever before. If you like the idea of using an app to easily control the temperature of your home from anywhere in the world, or of being in control of your usage history, energy-saving stats, and other important information, a smart thermostat could be the upgrade you need for your home.
At Four Seasons Heating and Air Conditioning, we're dedicated to helping homeowners modernize their lifestyles with smarter products and technologies. Take a look at some of the benefits of a smart home thermostat to control your HVAC system, and how you can streamline your heating and cooling usage and start saving money each month on energy costs now.
Save on Energy Costs With These Intelligent Features
Although smart thermostats have been around for a while now, the technology has advanced considerably in recent years. Many of our customers are surprised to learn about the newest changes and innovative features that have come out in recent years, and how these products can transform the efficiency and comfort of your home. Here's a list of some of the intelligent features that most smart thermostats are equipped with:
Remote access for easy and convenient temperature control
Customizable temperature limits to keep climate within a certain range
Push notifications about changes in your home's temperature
Wi-Fi connection for weather alerts and forecasts
Smart integration with mobile devices and more
Auto-scheduling to complement your personal schedule
In addition, many systems will issue warnings when issues that come up with your HVAC system, or if there are critical changes to your home's energy efficiency. Knowing that there's a problem with your home's cooling and heating system at the moment can potentially help you save money and avoid expensive repair costs down the road.
Choosing the Right Model
At Four Seasons Heating and Air Conditioning, we offer an excellent selection of smart thermostats from innovative, industry-leading manufacturers to choose from. If you're trying to decide between models and aren't sure which one is the best for your needs, our expert team of contractors can help you make the perfect decision based on your preferences and your budget.
Here's a quick list of some of our best-selling smart thermostats, and the some of the benefits of each one:
EcoBee: This smart thermostat is known to help homeowners save up to 23% on energy costs, with a wide range of incredible features like built-in Amazon Alexa app integration and voice service, and a room sensor to regulate irregular temperatures inside your home.
iComfort: iComfort smart thermostats offer a unique, full-range user experience, with innovative options that include Smart Away™, Allergen Defender, filter change reminders, and a host of other useful features.
Nest: The Nest is one of our top-rated smart thermostats on the market, with a full range of state-of-the-art features designed to help you conserve the most energy possible while personalizing the ultimate indoor climate experience.
For a complete breakdown of features included in each model, our smart thermostat installation experts can provide the information you need to help you decide on the model that's right for your home.
Get Smarter Technology With Four Seasons Heating and Air Conditioning
At Four Seasons Heating and Air Conditioning, we're delighted to help homeowners upgrade their homes with products that save energy and enhance efficiency. Smart thermostats allow users to experience a truly personalized and fine-tuned indoor climate experience from anywhere in the world, and the added control can be a blessing for those living under a wide variety of circumstances, including:
Homes with pets
People that travel often or are constantly on-the-go
Elderly family members or those that are sensitive to heat or cold
Allergy sufferers
Temperature-sensitive equipment like electronics and other electrical appliances
Homes with indoor plants
Homes with natural wood flooring that can be damaged by high humidity environments
Since 1971, we have been Chicagoland's most trusted HVAC service contractor, and we are ready to serve you like your smart thermostat installation experts. If you're ready to make the upgrade to a smart home thermostat, we can help. Give us a call to speak with one of our agents about our products and services at Four Seasons Heating and Air Conditioning, or fill out our online form to schedule your free, in-home quote.
Save $35 on Any Repair Service
Repair service in hours, not days. Save $35 on any heating, cooling, plumbing, or electrical repair.
We're Ready to Help...Now!
Day or Night, 24/7, Count on Trusted Service From Four Seasons Heating, Air Conditioning, Plumbing, and Electric