Common A/C Mistakes Homeowners Should Avoid
By Four Seasons Heating, Air Conditioning, Plumbing & Electric - August 28, 2015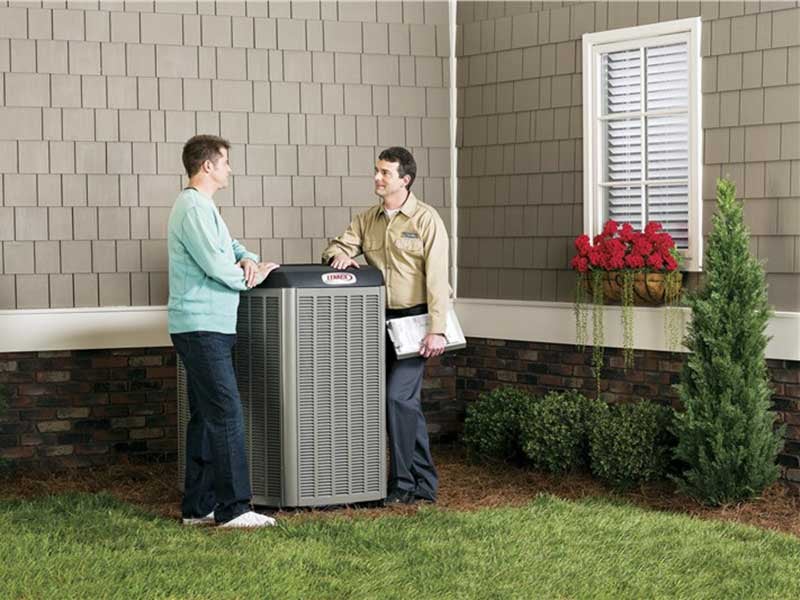 Investing in a cooling system for your home is an important decision. It cools your home, keeps your family safe, and makes summer an enjoyable time despite the heat.
However, many homeowners are inadvertently shortening the lifespan of their central air conditioning system by skipping the maintenance requirements of their unit. Much like a car, your air conditioner requires a little yearly TLC to make sure it avoids breakdowns and runs at peak efficiency. Without it, your A/C is much more likely to experience issues when you need it the most.
Because of the unpredictable weather in Chicago, a well-maintained A/C is vital for homeowners. Neglecting your air conditioner can end up being both an inconvenient and expensive mistake, especially when the temperature gets close to 100° outside.
Here are the top 4 A/C mistakes to avoid.
Poor A/C Placement
The location of your A/C can make a difference in its overall efficiency. If the unit is placed on the southwest side of your home, it will be hit by the hot summer sun during the afternoon, right when it needs to work the hardest.
This extra heat can reduce the efficiency of the unit and cause it to run longer than necessary to lower the temperature of the home. Place your unit in a shady spot somewhere on the north or east side of your home for best results.
Setting the Thermostat Too Low
It's natural to assume that the lower you set a thermostat, the faster it will cool a home. The truth of the matter is that your A/C is going to operate at the same strength and speed regardless of how low you have set the temperature. By setting the temperature low, you will only be extending the duration of your A/C's cycle and the amount of energy it has to use.
Ceiling Fan Misuse
Ceiling fans are the perfect supplements to a cooling system. When you circulate cold air with a ceiling fan, your room can feel cooler even though the thermostat stays the same. With fans, you can achieve a higher comfort level without using extra energy (and raising your monthly bill) to bring the temperature lower.
However, it's important that your fans are spinning in the correct direction during the summer. Most ceiling fans have two directions, which we call "winter mode" and "summer mode." Make sure your fans are spinning in a counterclockwise direction during the warmer months. When fans spin clockwise, they pull air to the ceiling and disperse it down the walls, which will do little to provide comfort.
Ignoring Maintenance
While the mistakes above can result in higher energy bills, this mistake can be the most costly. Ignoring proper A/C maintenance can result in expensive future repairs, if not complete replacements.
Air conditioners that receive annual maintenance have been known to last upwards of ten years longer than neglected systems. This is because HVAC technicians are able to catch problems before they become serious, and can help keep your A/C in good condition.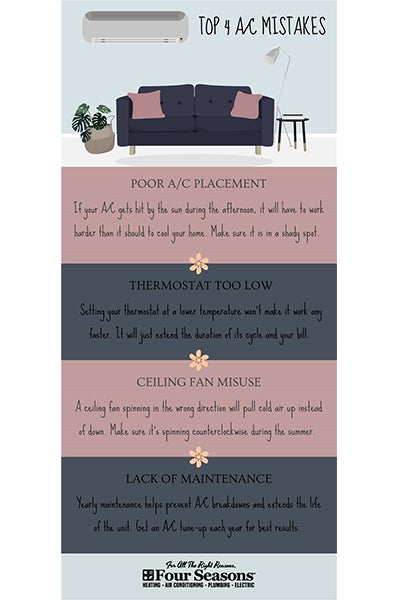 Prevent breakdowns and avoid repair costs by scheduling a Four Seasons A/C Tune-up today. We've trained our technicians to inspect and correct every component of your air conditioner while giving it the TLC it deserves.
Save $35 on Any Repair Service
Repair service in hours, not days. Save $35 on any heating, cooling, plumbing, or electrical repair.
We're Ready to Help...Now!
Day or Night, 24/7, Count on Trusted Service From Four Seasons Heating, Air Conditioning, Plumbing, and Electric