How to Prolong the Life of Your AC Unit
By Four Seasons Heating, Air Conditioning, Plumbing & Electric - September 23, 2019
When it comes to owning a home, your AC unit is one of the most expensive appliances you'll ever purchase, maintain, and eventually replace. Whether it's the initial cost of installation, your monthly electricity bill, repairs, or replacement—the AC unit can end up costing you quite a bit of money in the long run.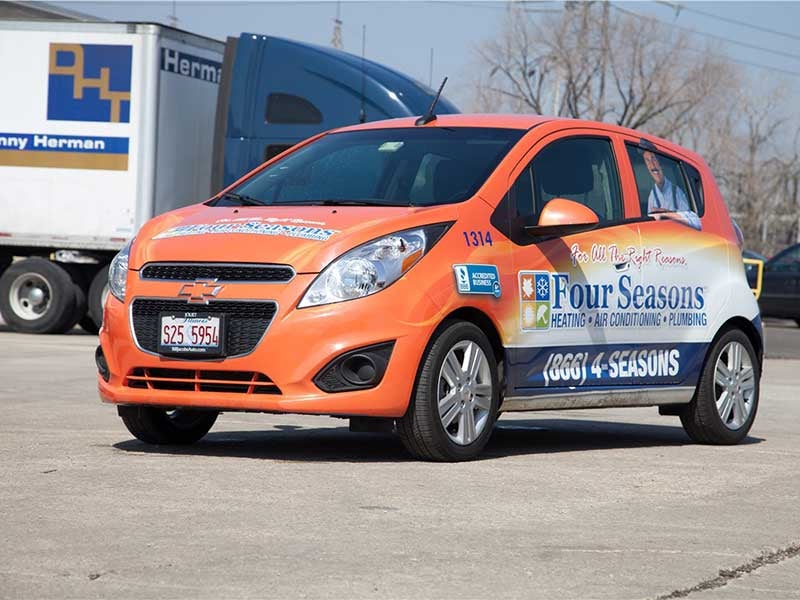 This is especially true if your AC unit isn't being well-maintained throughout the year. Lack of maintenance can lead to more frequent repairs and a shorter lifespan of your system. To save as much money as possible, it is vital to take the necessary steps to prolong the life of your AC unit by keeping it running as efficiently as possible. Since most air conditioning services are better left to the professionals, finding an AC company you can trust is key. Four Seasons Heating and Air Conditioning is an industry-leading Chicago HVAC company, offering exceptional services to help you repair, replace, and prolong the life of your AC unit. Today, we are going to look at five different ways to ensure that your air conditioning system runs at peak performance for longer, to help you feel at ease with one of your largest and most important home investments. Regularly Change Your A/C Filter Changing your air filter is one of the quickest and easiest ways to maintain your AC unit. The air filter filters out any dust, pet hair, allergens, and contaminants from the air drawn into your unit to make sure that the air blowing out of your vents is clean. It also helps to protect the internal workings of your unit as well.
Clean Out the Outdoor Unit
The outdoor unit for your AC system can become dirty from dust, grass clippings, rodent nests, and any other outdoor debris. When dirty, it takes more effort to cool down your freon which in turn makes your electric bill skyrocket and your unit to work harder than it needs to. This can result in premature failure of your entire air conditioning system. To avoid a breakdown or costly repairs or replacements, keep it clean by regularly cleaning the coils.
Ensure Your Vents Are Free of Clutter
Any AC system is equipped with intake vents and return vents. Intake vents draw in air to the AC unit while return vents disperse the air to each room. If your intake vents are blocked, your AC system will end up working much harder to try to bring in air through the blocked vent. Ensure your vents are free of debris and dust build-up by cleaning them regularly.
Upgrade Your Thermostat
Another simple way to prolong the use of your AC unit is to upgrade your thermostat. Most homes have outdated thermostats, and upgrading to a programmable or smart thermostat can result in better efficiency and more precise cooling and heating. A smarter thermostat can help you schedule your AC unit to kick on at certain times as well, to help ensure that it is only being used when you need it.
Use Window Blinds and Curtains
To prolong the use of an AC unit, you will need to make sure that it is not being unnecessarily overworked. One quick way to make sure that your home is staying as cool as possible without overworking your AC is to use blinds and curtains to help keep the sun's heat out of your home. Blinds and curtains are a great way to keep your home cool and keep your AC working efficiently—not to mention it can also help a lot for keeping your energy costs down.
Premier Air Conditioning Services in Chicago, IL
Since 1971, Four Seasons Heating and Air Conditioning has been assisting the greater Chicago area with expert HVAC solutions and world-class customer service. With same-day services and 24/7 emergency repairs, Four Seasons Heating and Air Conditioning has grown to be a consumer favorite for AC replacement in Chicago.
For more information about our outstanding HVAC services, give us a call now to speak with an agent. To get a free, no-obligation, in-home quote, fill out our online form and a representative will get in contact with you shortly.
Save $35 on Any Repair Service
Repair service in hours, not days. Save $35 on any heating, cooling, plumbing, or electrical repair.
We're Ready to Help...Now!
Day or Night, 24/7, Count on Trusted Service From Four Seasons Heating, Air Conditioning, Plumbing, and Electric