How to Tell if Your Air Duct Cleaning Was Done Correctly
By Four Seasons Heating, Air Conditioning, Plumbing & Electric - August 29, 2014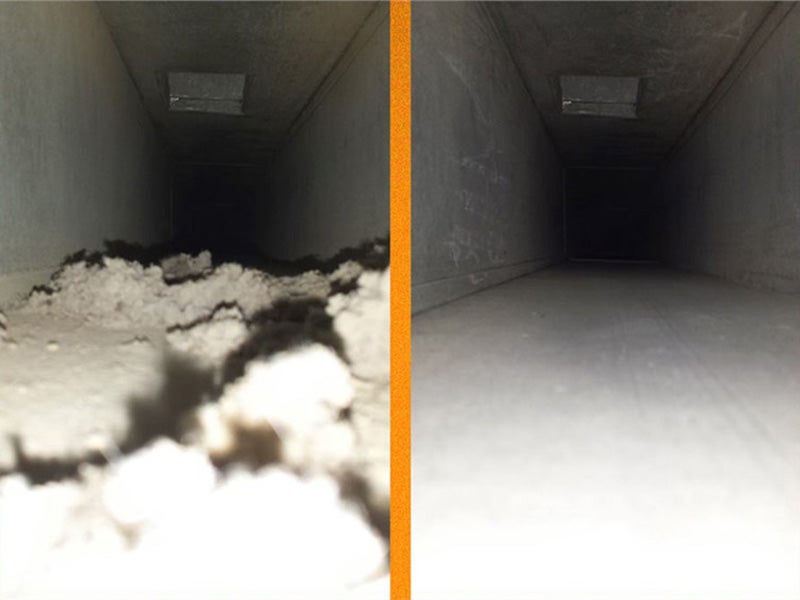 We've all heard the horror stories of disreputable companies pretending to offer duct cleaning services but offering shoddy work, a steep bill, and a sharp headache instead.
At Four Seasons, we hear these cautionary tales every day. Whether it's companies using Shop-Vacs or a $50 duct cleaning special with hidden fees, they all have one similarity: the ducts are still dirty at the end of the day.
Since your ducts are hidden in the wall, how can you tell if the duct cleaner you hired has done a good job? Luckily, there are a few signs you can look for:
The Duct Cleaning Process
With many of these scam companies, you should be able to tell almost immediately that they are disreputable based solely on their process. What kind of equipment did they bring? Did they drive a branded company vehicle? Was their work thorough?
If your answer to these questions is less than desirable, it's likely that your ducts are still dirty.
Duct Interior
Choose a return and supply register in your home. After removing the cover, use a flashlight to inspect the inside. Is it still dirty?
If there is still ample dust and debris inside the vent, the duct cleaners were not thorough enough.
Vent Covers
The duct cleaning process also includes removing, cleaning, and replacing each of the register covers in your home. If your registers are still dirty, your ducts might still be dirty.
Access Doors
A proper air duct cleaning requires the technicians to cut a small hole in the ductwork near your furnace. After the cleaning is complete, the hole is closed and completely sealed.
If no hole was cut in your ductwork, it's very likely your ducts are not clean. If the hole was cut but not sealed properly, you will waste money and energy every time your turn on your HVAC equipment.
A/C and Furnace
Last but not least, check to make sure your A/C and furnace still work properly. If there is any damage, hold the company responsible for the damages accountable.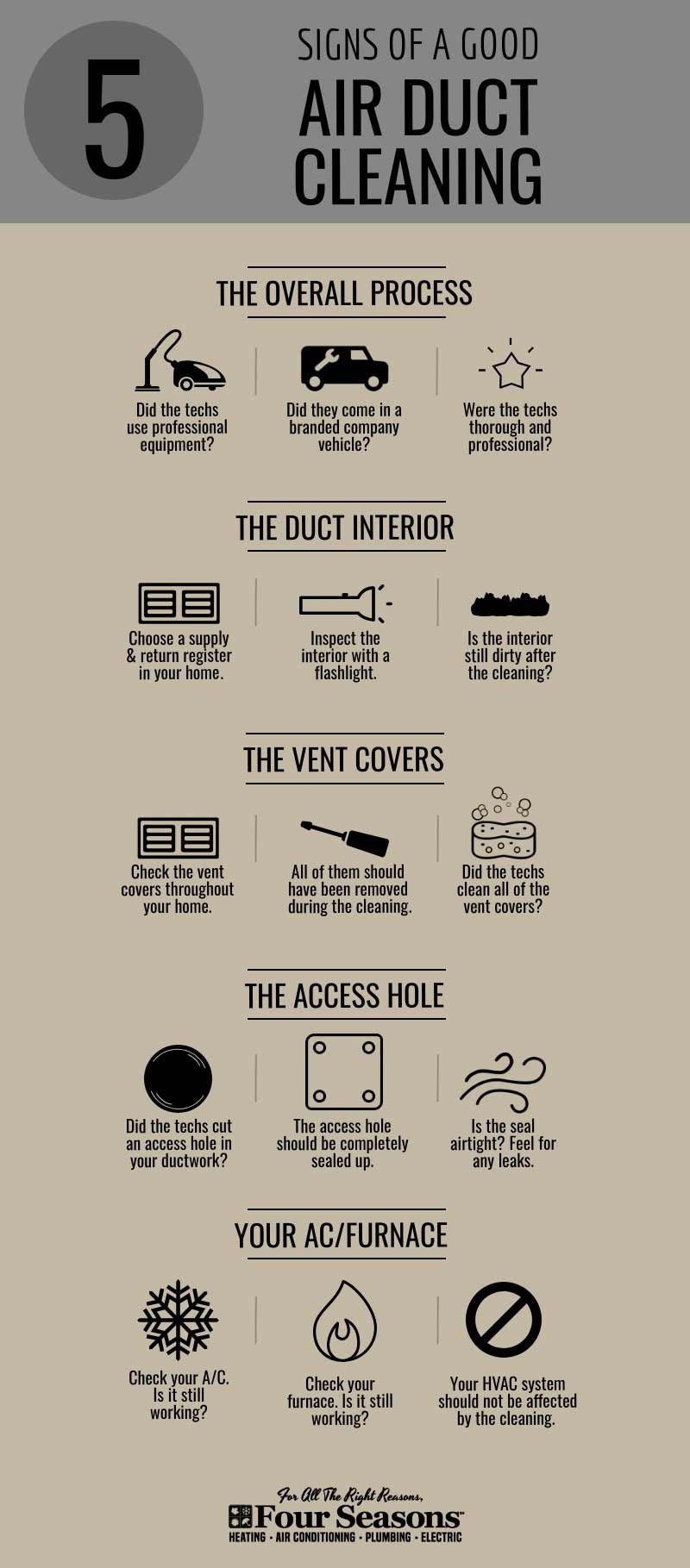 A proper air duct cleaning will pass all the scrutiny outlined above. For example, at Four Seasons, our technicians arrive in a branded vehicle carrying a 3-stage H.E.P.A. filtration system and powerful SL4000 vacuum. Our process lasts 4-7 hours and removes 99.97% of the dust, dirt, and debris in your ducts.
Our duct cleaning equipment has an airflow capacity of 5000 cubic feet per minute, which creates an airflow five times as powerful as the one created by your HVAC system. Our technicians are also trained to use agitation tools to stir up the debris in your ductwork in order to make it as clean as possible.
If you're looking for a trustworthy duct cleaning service in Chicago, contact Four Seasons for a free quote today.
Save $35 on Any Repair Service
Repair service in hours, not days. Save $35 on any heating, cooling, plumbing, or electrical repair.
We're Ready to Help...Now!
Day or Night, 24/7, Count on Trusted Service From Four Seasons Heating, Air Conditioning, Plumbing, and Electric