What Are the Most Common AC Issues?
By Four Seasons Heating, Air Conditioning, Plumbing & Electric - May 3, 2019
As a homeowner, you know how important it is to keep up with the maintenance and repairs of your home and property. One of the most common appliances in need of constant upkeep and attention—especially just before the summer begins—is the air conditioning system in your house.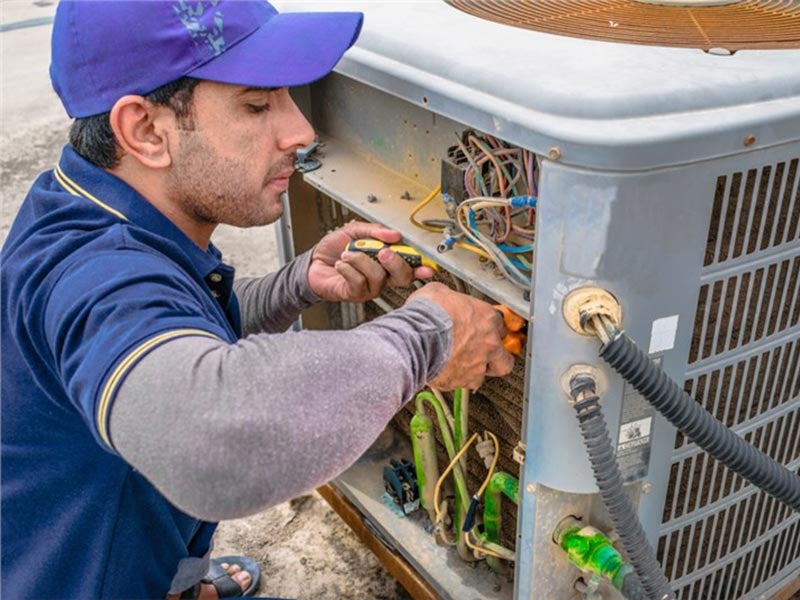 AC units don't last forever, thanks to the typical wear and tear and elemental exposure they face throughout the year. However, with regular maintenance and repairs, along with the proper understanding of the most common AC issues your system faces, you can optimize the life of your AC unit to its maximum lifespan—which will allow you to be able to count on your system's ability to keep you comfortable for years, even when the temperature becomes sweltering.
In this guide to air conditioning maintenance from Four Seasons Heating and Air Conditioning, we're revealing some of the most common AC issues to be aware of and how staying on top of repairs and maintenance can extend the life of your unit. Being aware of the issues will help you understand when it's time to call an expert technician from your Chicago air conditioning company for assistance, and will also help you be prepared in the event a large repair or replacement becomes necessary.
Common AC Issues
An air conditioning unit is an appliance, and like all appliances, your AC needs regular maintenance and inspections for optimal performance and to keep from falling into disrepair. Maintaining performance requires an understanding of some of the most common issues, so you can be prepared for your AC repair.
Fortunately, we have provided a checklist for your review below.
Filter: While this is an issue that's easily resolved, a clogged or dirty air filter is one of the most common issues that can strike an air conditioning unit. Dirty or blocked filters are a problem as they can reduce the flow of air, hiking up your utility bill—and can even cause the AC unit to freeze, causing damage to the entire unit. Some filters need to be replaced each month or every three months, while other filters are reusable but need to be cleaned regularly. Determine what kind of filter you have by consulting with a professional HVAC expert, and act accordingly to stay on top of your filter.
Faulty Wiring: An improper installation is the biggest culprit for this one, but can also be the result of a bad unit. Compromised wiring can prevent the system from accessing power, trip the circuit breaker, and even cause fires depending on the severity of the bad wiring. A properly certified technician can ensure your wiring is up to code.
Low Refrigerant: This chemical, which also goes by the name Freon, is responsible for cooling the air within the AC system. If there is not enough of this chemical, it could mean a leak or an issue with the refrigerant system. The easiest solution is to locate and repair the leak since over 90% of these cases are the result of a leak.
Frozen Coils: Low refrigerant or dirty air filters are the most common causes of this issue. Identifying this issue in a timely manner not only helps you identify other issues but can also save your AC unit itself.
Annual Checkup: A small problem can become a large one before you know it. In addition, every machine acts a little different from another machine. The easiest way to handle any issue is to stay current with your annual inspection. Doing so will allow the technician to identify issues before they become problems.
Pre-Summer AC Maintenance With Four Seasons Heating and Air Conditioning
Since 1971, the team at Four Seasons Heating and Air Conditioning has serviced our customer's HVAC needs throughout the Chicago area, earning a name for ourselves as a superior, top-rated Chicago HVAC company. While the industry may have evolved since our beginnings in the '70s, we haven't changed our commitment to superior service backed by the best products available for a truly first-rate experience.
We pride ourselves on being there for our customers no matter what. Whether it's an annual inspection, quick repair, or dead of night emergency we're there to take care of all of your AC issues. Every customer knows they can expect the following services without fail:
HVAC Installation
AC Repair
Air Conditioning Maintenance and Service
Air Quality Solutions
Ready to schedule your AC repairs or AC maintenance with our top-rated Chicago air conditioning company? Give Four Seasons Heating and Air Conditioning a call or fill out our online form to schedule your free, in-home consultation today.
Save $35 on Any Repair Service
Repair service in hours, not days. Save $35 on any heating, cooling, plumbing, or electrical repair.
We're Ready to Help...Now!
Day or Night, 24/7, Count on Trusted Service From Four Seasons Heating, Air Conditioning, Plumbing, and Electric