What Is Freon and Why Is It Important?
By Four Seasons Heating, Air Conditioning, Plumbing & Electric - October 3, 2019
What is Freon and Why is It Important? The AC system in your home is one of the most misunderstood appliances that homeowners have trouble diagnosing. While many people are used to hearing that an AC system may need more freon, many do not understand exactly what freon is and what it does.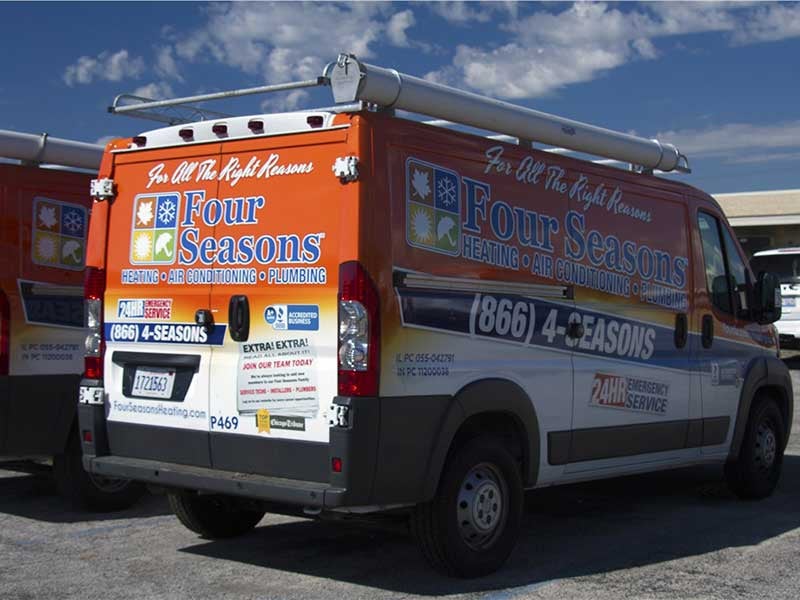 Our Chicago HVAC company Four Seasons Heating and Air Conditioning can help you better understand how freon works and how you can keep your AC running at maximum efficiency. Today, we are going to look at what freon is, and how it works to keep your home cool and comfortable.
What Is Freon?
Freon is a non-combustible gas that is used as a refrigerant in air conditioning applications. This freon undergoes an evaporation process over and over again to help produce cool air that can be circulated throughout your AC system. freon is available in a couple of different applications, with some costing more than others depending on the availability of the product. When people refer to an AC system needing to be recharged or refilled, they are referring to the levels of freon.
How Freon Works in a Home
Freon, when used in a home, circulates through your AC systems series of refrigerant lines. freon travels through this system and undergoes a series of processes. First, the AC compressor compresses the freon gas making it very hot. Next, the freon travels through a series of coils which helps to cool and convert the gas to a liquid state. It then travels to evaporators which convert it back to a low-pressure freon gas that can cool the air in your home.
Can Freon Go Low in My System?
Over the years, this process takes a toll on the freon gas and you can start to see a decrease in the amount of freon in your system. Also, any type of small leak can allow freon to escape, making the overall pressure of the system drop. This can be remedied by a simple recharge of your AC system or an AC system repair to fix any leaks you may have.
Can I Refill My Freon?
When your freon levels get low, you can hire an HVAC specialist to refill or recharge your system. This will require the technician to take a current reading of your freon levels and add in enough freon to bring your system back to the correct specs. This will allow your system to work
like new and run at full efficiency to keep you and your home cool while saving you a lot of money on electrical bills. The cost of this service can range from $100-$1000, depending on the type of freon you will need.
Your Top Choice for Quality Air Conditioning Services in Chicago
With nearly half a century in the HVAC industry, Four Seasons has provided the greater Chicago area with industry-leading air conditioning services—including AC repair and AC replacement in Chicago. Boasting 14 Angie's List awards and a long track record of satisfied customers, you can trust that our team can get your AC system working as good as new.
For more information about annual maintenance, repairs, or replacements for your AC system, give us a call now to speak with one of our representatives. To get started with your free quote, fill out our online quote form.
Save $35 on Any Repair Service
Repair service in hours, not days. Save $35 on any heating, cooling, plumbing, or electrical repair.
We're Ready to Help...Now!
Day or Night, 24/7, Count on Trusted Service From Four Seasons Heating, Air Conditioning, Plumbing, and Electric