Why Your Air Conditioning System Needs Maintenance
By Four Seasons Heating, Air Conditioning, Plumbing & Electric - April 24, 2019
It's the middle of the spring season, which means that summertime is just around the corner. For homeowners living in the Midwest, it's a well-known fact that a working air conditioner is a crucial component to keeping a happy home over the hot summer months. After all, we rely on a perfectly maintained and functional air conditioner to keep our home cool during the sweltering heat outdoors. If your AC unit is functioning at peak efficiency, your household (and everyone in it) will enjoy the cool convenience of a comfortable home throughout the hottest season of the year. Unfortunately, many homeowners suffer from an improperly functioning air conditioning unit that breaks down or provides insufficient cooling during the summer. This can mean bearing through an uncomfortable summer, and also increased energy bills, unexpected and expensive repairs, or a last-minute, unplanned AC replacement.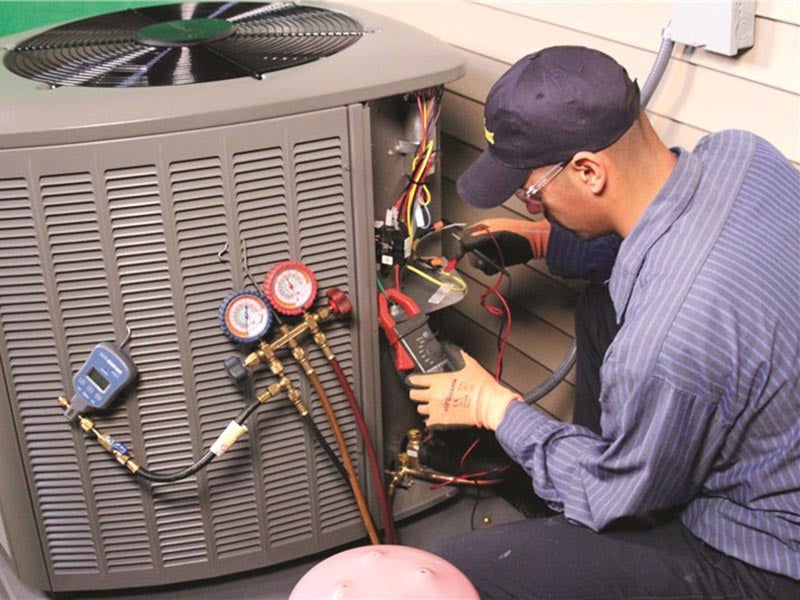 The best thing you can do to prevent these AC issues from ruining your summer fun is to schedule regular maintenance and AC repair services from a trusted Chicago air conditioning company. In this article, our team from Four Seasons Heating and Air Conditioning will go over some of the reasons why your AC might need maintenance right now—and how you can tell whether AC repairs or a replacement are in order before the summer season begins.
Signs Your AC Needs Help
There are a number of reasons why your AC System may need attention, but the key to staying on top of the issue is to identify what the specific problem is along with what the best solution is to remedy the problem. For your benefit, our team of AC maintenance experts has compiled a list of the top six problems homeowners face with air conditioning units.
No Chill: This is probably the most obvious warning sign that something is wrong with your AC unit. If it's not producing cool air, then it's not doing its job. It doesn't get simpler than that. However, maintenance may keep your AC unit functioning well enough to not need a replacement. The two biggest reasons for lack of cool air is either a busted compressor or low Freon levels. A technician will be able to identify what is wrong with the two and if the unit will need to be replaced or just repaired.
No Air Movement: Sometimes the air may be cool but isn't coming out with any force making the unit ineffective in cooling the house down. When this occurs, it may be a sign that the compressor is failing. If some parts of the house are receiving cool air, while other sections are not, then the problem may lie in your duct work. Making sure the ducts are clean is a great way to extend the life of your AC system, which is crucial when the temperature starts climbing.
Thermostat: Another sign that your AC system needs maintenance is when some parts of the home are very cold while other parts stay the same or are in fact hot. This occurs when the thermostat itself is not working properly. Another sign's the thermostat is when the temperature is off by a large amount from the temperature it's set at.
Moisture: Condensation and other types of moisture seem common when running all of the time during summer, but it's actually a sign of a larger problem. When water is leaking it is usually thanks to a refrigerant leak, which is a serious health risk or the drain tube is broken or blocked. When the drain tube is compromised, the condensation that builds up has nowhere to go. This issue is not as serious but may lead to the development of mold or rust over time.
You're Suddenly Hearing Things: Sounds like grating or grinding is an indication that the unit itself may need replacing. The reason for this is because the noise implies that something within the unit is broken. Regular maintenance can help keep this from occurring and save you from a costly replacement. A technician may be able to identify warning signs in time like a worn belt or worn down bearings making for a simple fix.
It Smells: When a smell comes from your air conditioning vents the most likely reason is that the wire insulation has burned out. However, other smells like a musty smell indicate the presence of mold in the unit or duct work. Mold can cause health problems over time and needs to be addressed quickly.
AC Maintenance With Four Seasons Heating & Cooling
At Four Seasons Heating and Air Conditioning, we believe in a comprehensive approach in our service offerings, which is what makes us your Chicago HVAC company. Just like Chicago's winters can be harsh, so too can it's summers. Because of this, we provide nothing but the best in service, maintenance, and products for our customers.
Some of the benefits our customers receive include:
Greater Savings on Installations and Repairs
Comfort and Convenience
Breakdown Prevention
Increased Lifespan of Your HVAC System
In addition to these benefits, we offer a no-breakdown guarantee with each cleaning we perform. If your unit breaks down after our cleaning in the same season, we'll return at no charge to our customers due to our confidence in the job we perform.
Ready to schedule your AC maintenance? Give us a call or fill out our online form to schedule your free, in-home consultation with one of our experts from Four Seasons Heating and Air Conditioning today.
Save $35 on Any Repair Service
Repair service in hours, not days. Save $35 on any heating, cooling, plumbing, or electrical repair.
We're Ready to Help...Now!
Day or Night, 24/7, Count on Trusted Service From Four Seasons Heating, Air Conditioning, Plumbing, and Electric