Enjoy Efficient Heating From This Top-Rated, Affordable Gas Boiler
You'll never get left in the cold when you have a reliable gas boiler from Four Seasons Heating and Air Conditioning.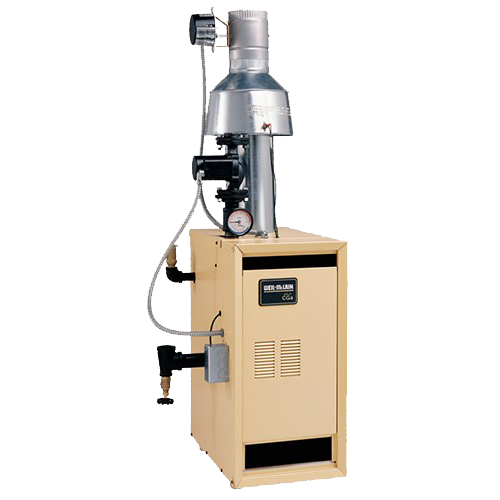 If your home is older and has no ducts, or you have no room to install ducts, a gas boiler provides you with an option for a reliable heating system. Relying on radiators located throughout the home, our CGa Gas Boiler Series 2 provides consistent heating—even on the coldest Chicago day.
Since 1971, Four Seasons Heating and Air Conditioning has been the area's trusted choice for quality heating and cooling services. We install top-rated products and provide expert installation for a durable, reliable system.
High Efficiency. Impressive Durability.
This gas-powered residential unit is easy to install and is quite compact—unlike some other units that require you surrender a lot of valuable living space. Homeowners also appreciate the quieter ignition and easy-to-access controls and flues. Standard and optional equipment on the CGa Gas Boiler Series 2 include:
Insulated extended steel jacket
Roll-out thermal fuse element
Constantly burning, thermally supervised pilot
Vertical draft hood
Electrical junction box
High-limit temperature control
Spill switch
30 PSI ASME relief valve
Drain valves
See the brochure for a full list of features and specifications. For residential and light commercial use, this gas boiler is an efficient, affordable, reliable choice.
Find Out More About Our Industry-Leading Boilers
If you're not sure which boiler or other heating and cooling product is right for your home, the experts at Four Seasons Heating and Air Conditioning can help. Contact us to learn more about the CGa Gas Boiler Series 2 and our other
boilers
or to request a free, no-obligation estimate. Give us a call today or fill out our online form to get started.
Schedule Your Appointment
Ready to get started? Please fill out the form below and a member of our team will be in touch shortly!
We're Ready to Help...Now!
Day or Night, 24/7, Count on Trusted Service From Four Seasons Heating, Air Conditioning, Plumbing, and Electric