Efficient Heat Pump Systems
Enjoy lower energy costs with this high-heat capable heat pump system.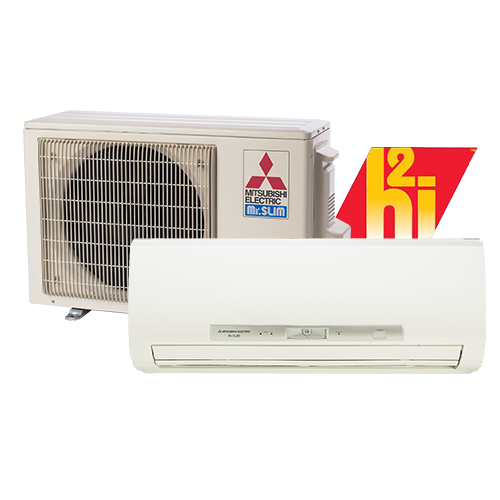 MSZ/MUZ High-Efficiency Heat Pump
While the extreme temperatures of summer and winter often require your heating and cooling system to work hard, there are other times when it makes more sense to rely on an energy-efficient heat pump instead. These products can dramatically change the way you heat your home on days that don't require a lot of furnace power. If you are looking for an efficient pump to keep your home comfortable with whisper-quiet operation, then look no further. Four Seasons Heating and Air Conditioning can improve your comfort year-round with the MSZ/MUZ High-Efficiency Heat Pump.
Controllable Comfort for Your Home
When you choose the MSZ/MUZ High-Efficiency Heat Pump for your home, you can expect industry-leading quality and reliability for years to come. Most importantly, the state-of-the-art technology allows you to enjoy optimal comfort in virtually any room in your house. The system can detect changes to any room or zone temperature and make the necessary adjustments to maintain your desired temperature. In addition, you can start to enjoy the following advantages after we install your heat pump:
Increased Efficiency:

 

With minimal ductwork, you can drastically minimize any wasted energy.
Improved Air Quality:

 

The advanced filtration system can remove particles from your indoor air.
Programmable Comfort:

 

Control the comfort throughout your home by setting the temperature and fan speed for automatic adjustments.
Easy Cleaning:

 

You can routinely and affordably maintain the heat pump yourself by washing the filters as needed.
Learn More About Our MSZ/MUZ High-Efficiency Heat Pumps
To find out more information about our
heat pumps
, we encourage you to speak with one of our knowledgeable technicians about your needs. You can call to ask any questions or fill out our online form to request your free, no-obligation estimate.
Schedule Your Appointment
Ready to get started? Please fill out the form below and a member of our team will be in touch shortly!
We're Ready to Help...Now!
Day or Night, 24/7, Count on Trusted Service From Four Seasons Heating, Air Conditioning, Plumbing, and Electric