What to Do if Pipes Freeze During Winter
By Four Seasons Heating, Air Conditioning, Plumbing & Electric - December 11, 2018
When the winter season arrives, especially in Chicago and other areas of the Midwest, it's important to ensure that your home is well-maintained and prepared for the intense weather changes. One of the most critical areas where maintenance is especially necessary is your home's heating system, which will need to be ready for the increase in usage over the coldest months of the year. At Four Seasons, we've been helping homeowners in the Chicago area maintain, repair, replace, and install brand-new HVAC systems since 1971. We understand how crucial it can be to provide the proper upkeep necessary to ensure that your system works properly throughout the winter season, and what homeowners can do to lower their energy bills and avoid expensive repair or replacement work during this time of the year.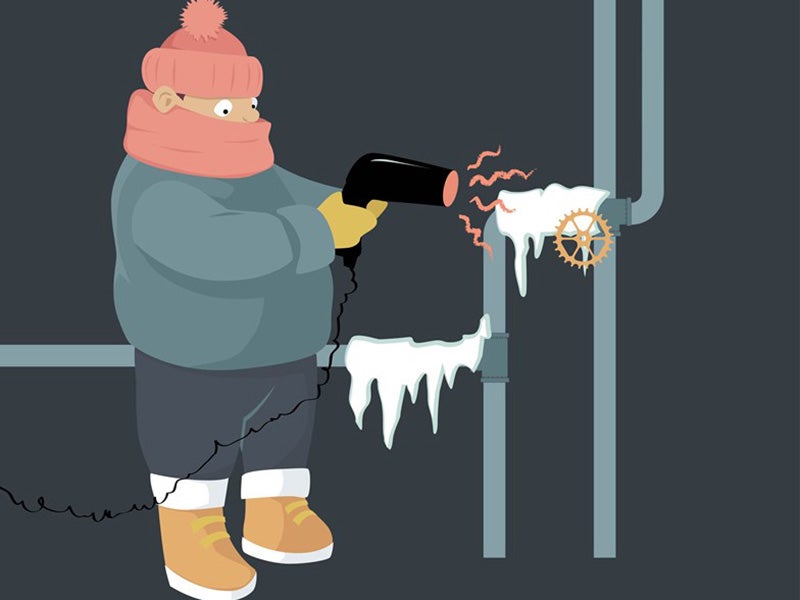 One of the biggest challenges homeowners face is the possibility of their pipes freezing in colder weather. In this article, you'll find tips on avoiding frozen pipes once the temperatures start dropping—and on fixing frozen pipes once the ice has taken over. How Do I Keep My Pipes From Freezing Over the Winter?
Before we get started, it's important to know what you can do to prevent your pipes from freezing over in the winter. There are ways to substantially lower the risk of suffering from frozen pipes, which in turn can help you prevent a possible expensive catastrophe if the pipes should suddenly burst from the extra pressure. In general, it's important to keep your pipes warm throughout the season as much as possible. This is especially true for exposed pipes in your home that are unprotected from insulation. In this case, it's a good idea to keep your faucets that connect to these pipes trickling cold water through them at all times, to prevent them from freezing over. Another tip to keep your pipes from freezing is to keep your thermostat set at the same temperature at all times. While this may not be possible or realistic during especially cold weather, try to keep it neutral and in the same position as much as possible throughout the winter. This includes moments when no one is at home. As a rule of thumb, always keep the temperature inside your home from dropping below 50-55 degrees at all times, even if you aren't there.
How Can I Tell if the Pipes Are Frozenl Think My Pipes Are Frozen… Now What?
If your pipes have frozen already, don't panic. The first step is to turn off the connection to the main water line. Once you've shut off the water, inspect your home for evidence of a burst pipe. If there is evidence that your pipes have already cracked, call a repair service immediately for assistance fixing frozen pipes after they've burst. In the case of frozen pipes that have not cracked, you'll need to focus on warming up the pipes to unfreeze them. This can be done in the following ways:
Turn on all of the Faucets: Running water (even cold water) will help the ice melt and unfreeze the pipes.
Spot-Treat Frozen Pipe Areas: If you can locate the section of piping that's frozen, unfreeze the area by wrapping hot water packs or heating pads or hot towels over the section until the ice melts. You can also use a hair dryer or another electrical heating appliance to warm the area. Take special care not to use fire tools or to heat the area with an open flame, to avoid the risk of burning the pipes or starting a fire.
Once you've successfully unfrozen the pipes, the water in your home should run freely and at full force. Once this is achieved, you can turn the water connection back on at the main valve, and take the proper precautions for avoiding frozen pipes over the winter seasons.
If you'd like to learn more tips for fixing frozen pipes or avoiding frozen pipes over the winter, or if you have other questions regarding the general maintenance and upkeep of HVAC systems over the winter, don't hesitate to call your local Chicago experts in heating and cooling at Four Seasons. To contact our team, give us a call or fill out our online form to schedule a fast, in-home consultation and estimate for repair, replacement, or maintenance of your HVAC system today.
Save $35 on Any Repair Service
Repair service in hours, not days. Save $35 on any heating, cooling, plumbing, or electrical repair.
We're Ready to Help...Now!
Day or Night, 24/7, Count on Trusted Service From Four Seasons Heating, Air Conditioning, Plumbing, and Electric